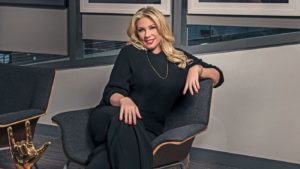 Heather Parry is the President of Production, Film & Television for Live Nation Productions, which is Live Nation's film and television division. Since launching the division in 2016, she has led the production of four groundbreaking musically-driven documentaries: Eagles of Death Metal: Nos Amis (Our Friends), which debuted on HBO and was nominated for two Critics' Choice Documentary Awards, including Best Documentary, Can't Stop Won't Stop: A Bad Boy Story, which premiered at the 2017 Tribeca Film Festival before becoming exclusively available on Apple where it hit No. 1 on the iTunes Documentary charts across the Globe and took home the Hollywood Documentary Award at the 2017 Hollywood Film Awards, Gaga: Five Foot Two, which premiered at the 2017 Toronto International Film Festival before becoming available on Netflix in over 190 countries and won Best Music Documentary at the 2018 MTV Movie and TV Awards and Best Music Film at the 2018 NME Awards and Believer, which was released by HBO in June 2018 and was also an Official 2018 Sundance Film Festival selection, where it won runner-up for the Festival Favorite Award out of 123 films screened. Upcoming releases include two scripted projects: A Star is Born, which will be released by Warner Bros and marks four time Oscar nominee Bradley Cooper's directorial debut, in which he co-stars with the multiple award-winning, Oscar-nominated music superstar Lady Gaga in her first studio starring role and Netflix's The After Party, starring Wiz Khalifa, French Montana, Kyle Harvey (better known as the artist Kyle) and Teyana Taylor.
Prior to Live Nation, Parry served as the Head of Film Production for over a decade at Adam Sandler's Happy Madison Productions, overseeing box office hits such as The House Bunny, Just Go With It and Pixels. In addition, Parry was West Coast News Bureau Chief at MTV News and became a producer for MTV Films where she worked with some of the most sought-after artists during her 12-year span.
Parry is a member of the Producers Guild of America, Academy of Television Arts & Sciences, and the Recording Academy.